About the movie Moosa (2001-01-09)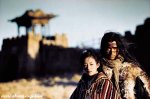 This period piece about nine Korean warriors who battle the Chinese to bring back the country's kidnapped princess reportedly cost 6 billion won to make, beating the 4.5 billion won record set by the group above.
The movie, which was finished on Dec. 22, was filmed on location in China, used 300 staff, thousands of extras and required four months for editing alone. It also stars the most in-demand actors, including Jung Woo-sung, Joo Jin-mo, Ahn Sung-ki and Chinese actress Ziyi Zhang.
The marketing of the film alone is expected to cost about 800 million won.