Ziyi's the third party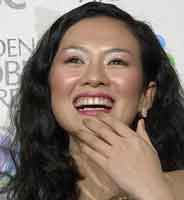 CHINESE actress Zhang Ziyi is said to have become a third party in the break-up of a relationship between her South Korean co-star in one of her latest movies and his girlfriend.
Baring her Seoul is Zhang Ziyi, who reportedly has a Korean boyfriend.
The actress, the new darling of Western movie fans since her role in the popular Lee Ang movie, Crouching Tiger, Hidden Dragon, had become attached to Korean actor Jung Woo Sung since the two started work on the Chinese period film, Moonsa (The Warriors), last year.
Citing a report in Korea Times, Hongkong's Yi Weekly said the pair, who played lovers in the Korean production, spent a romantic Christmas night together.
Recently, she dashed back from the United States after winding up her promotional activities for Crouching Tiger, Hidden Dragon to re-join Jung on the Moonsa film set.
Jung reportedly left his girlfriend of seven years for Zhang, who once said about work and love: 'I will never give up any challenge as long as I can manage it
' In Moonsa, she stars as the daughter of the first Ming dynasty emperor, Zhu Yuan Zhang. She also stars, as a non-English-speaking villain, in Jackie Chan's Rush Hour II, now in production.
Membre de ClickFR, Reseau francophone Paie-Par-Click